Our Impact

The Impact of Our Work
Our five-year impact report observed our school feeding programmes in two of our largest country programmes: Malawi and Zambia. Throughout the project, we consulted a range of children, teachers, householders and volunteers to fully understand the scale of our work. Results from the study (many of which are not surprising) conclude that our mission – to provide a daily meal in a place of education – has real and significant impacts for children in terms of hunger and energy levels, wellbeing, access to education, engagement and progression in education and community support and ownership for learning.
Although our focus will always centre around the children we serve, the impact of our work on communities is also significant, and the generosity and dedication of our volunteers and local communities is intrinsic to our approach to school feeding.
This reassurance, that our work is changing the lives of poverty-stricken children and communities for the better, shows that our vision is being realised and that our efforts to reach the next child will never stop.
The Next Child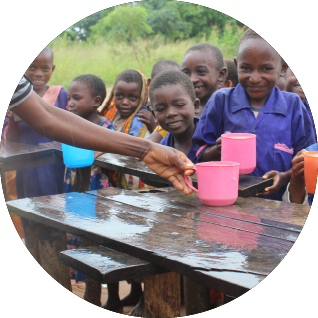 Our first priority, as ever, is to keep our promise to the children already in our programme, but we must also continue to strive to reach the next hungry child waiting. 
Our strategic plan for 2021-2023 (The Next Child) maintains three strategic aims: feed more children in a place of education and help those suffering the effects of extreme poverty in the world's poorest communities; grow the global movement and enable more people to offer their money, goods skills, time, or prayer to advance the work of Mary's Meals; and strengthen the organisation and Mary's Meals' global network in the furtherance of the vision, mission and values. 
We aspire to be capable of serving three million children every school day by the end of 2023.
This is a hugely ambitious plan, but we believe it is possible.
You can find out more about our strategic plan by reading our strategy document.
Our Impact Story - Findings at a Glance
A child who has the energy to attend and concentrate during lessons can achieve the unthinkable.

School feeding programmes are widely recognised as a cost-effective way to tackle poverty by addressing the immediate needs of

hungry children

and contributing to the long-term development of their communities.
Our findings show that in the first year of our programme,

Mary's Meals

reduces hunger levels for boys and girls, and the impact is sustained over time.

Children in Malawi were 29 times more likely to never feel hungry while at school than those not receiving our meals and children in the programme group in Zambia were also six times more likely to never feel hungry at school than those who were not.

Energy levels also increased after just one year of our feeding programme, with almost 100% of children in Malawi and Zambia having 'some energy' or 'lots of energy' after eating

Mary's Meals

.
School attendance and enrolment are also positively impacted by

Mary's Meals

, with more children registering at school and higher numbers attending lessons. Communities also notice fewer children not in school after Mary's Meals is introduced into education environments. MARY'S MEALS IS NOW FEEDING 

2,058,099

CHILDREN
Thanks to the presence of our school feeding programmes, every child who receives Mary's Meals is secure in the knowledge that, regardless of circumstance, they will receive a nutritious meal every school day at their place of education.